Every year ACT decorates a Christmas tree for Axmouth's Christmas Tree Festival
This year's tree was decorated by two members of the group titled 'Tears in Heaven'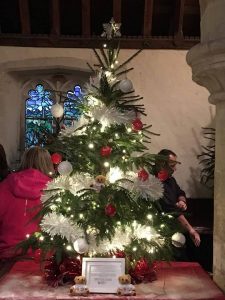 in remembrance of what the group has done for C.R.Y (Cardiac Risk In The Young) in memory of the 12 children who die each week from undiagnose heart conditions. (And also for personal memories of family and friends).
The tree features red baubles which all feature the C.R.Y logo and little teddy bears with t-shirts containing the same logo.
Our tree stands with another 33 illuminated trees in the St Michael's Church as part of the Axmouth Christmas Tree Festival open daily from the 11th December till the 23rd December, 11am till 5pm.